HIPAA (Health Insurance Portability and Accountability Act) is a federal statute that institutes rigorous guidelines overseeing the utilization, revelation, and safeguarding of Protected Health Information (PHI) by covered entities and business associates within the healthcare sector.
Despite the clear HIPAA guidelines, violations of its provisions continue to occur, leading to dire consequences for the entities involved.
By understanding the potential risks and learning from real-life examples, organizations can strengthen their commitment to HIPAA compliance and safeguard the invaluable trust placed in them by patients and stakeholders alike.
In this article, we will walk you through the following –
What is the HIPAA law?
What is the difference between HIPPA, PHI, and HITECH?
What Constitutes a HIPAA Violation?
HIPAA Violation Classifications
What are the HIPAA Violations Consequences?
HIPAA Violation Penalty Structure
Common HIPAA Violations
How can Elexes help in preventing HIPAA violations?
What is the HIPAA law?
HIPAA is a federal law enacted in the United States in 1996. The primary objective of HIPAA is to ensure the privacy and security of individuals' health information.
The law is structured to achieve an equilibrium between upholding the privacy of individuals' health data and permitting the essential circulation of healthcare information for legitimate objectives.
Difference between HIPAA, PHI, and HITECH
Often manufacturers find it difficult to understand what is the difference between HIPAA, PHI, and Health Information Technology for Economic and Clinical Health Act (HITECH). Let's break down the differences between HIPAA, PHI, and HITECH today.
HIPAA
HIPAA regulations establish criteria for the utilization, disclosure, and protection of PHI.
HIPAA guidelines apply to the covered entities and their Business Associates.
The covered entities are:
Healthcare providers
Health plans
Healthcare clearing houses
PHI
PHI refers to health information that can identify an individual and is created, received, transmitted, or maintained by a covered entity or a business associate, in any format or medium.
PHI encompasses an extensive array of details, including medical records, billing particulars, health insurance data, and any other information linked to an individual's past, present, or anticipated physical or mental health state.
PHI includes patient names, addresses, dates of birth, medical record numbers, and other identifying details linked to health-related information.
HITECH
HITECH is legislation passed as a component of the American Recovery and Reinvestment Act of 2009 (ARRA).
HITECH was formulated to encourage the integration and meaningful utilization of health information technology like electronic health records (EHRs).
Overall, this enhances the privacy and security safeguards within the ambit of HIPAA.
HITECH brought about substantial alterations to the enforcement and penalties for HIPAA violations, augmenting the potential fines for failure to comply.
It also extended HIPAA requirements to include business associates directly, making them directly liable for breaches and non-compliance.
What Constitutes a HIPAA Violation?
A HIPAA violation occurs when a covered entity, business associate, or any individual or organization fails to comply with the HIPAA rules and regulations.
There exist several pathways through which a violation can transpire, and some prevalent instances encompass:
Unauthorized Access
Accessing or disclosing protected health information (PHI) without appropriate authorization. This could be intentional or accidental.
2. Insufficient Security Measures
Failing to implement adequate safeguards to protect electronic PHI (ePHI) from unauthorized access, such as not using encryption or weak password protections.
3. Lack of Patient Authorization
Disclosing PHI to a third party without obtaining proper authorization from the patient, except in cases permitted by law (e.g., for treatment, payment, or healthcare operations).
4. Breach of Privacy
Breaching patient privacy by discussing PHI in public areas or sharing sensitive information with unauthorized individuals.
5. Negligent Handling of PHI
Mishandling or improperly disposing of PHI in a way that compromises its security and confidentiality.
6. Failure to Train Staff
Not providing adequate HIPAA training to employees who handle PHI, leads to inadvertent violations.
7. Non-compliance with HIPAA Guidelines
Not adhering to the various administrative, technical, and physical safeguards specified in the HIPAA Privacy and Security Rules.
8. Business Associate Violations
Business associates, entities that handle PHI on behalf of covered entities, can also violate HIPAA if they fail to comply with the applicable HIPAA regulations.
HIPAA Violation Classifications
The penalties for a HIPAA violation can vary depending on the intensity of the violations.
Here are common classifications of HIPAA violations:
Unintentional Violations: These violations occur when an individual or organization unknowingly breaches HIPAA regulations. It might happen due to negligence or lack of knowledge. Although these violations are not deliberate, they can still result in penalties.
Reasonable Cause Violations: This category includes violations that happen due to a failure to comply with HIPAA, despite exercising a certain degree of diligence. While there is no intent to harm, the responsible party should have known better and taken appropriate measures to prevent the breach.
Willful Neglect – Corrected: A "willful neglect" refers to cases where an entity knew about the HIPAA regulations but consciously choose not to comply. If such a violation is corrected within a specified time frame, the penalties might be lower than they would have been otherwise.
Willful Neglect – Not Corrected: If a violation remains unaddressed within the stipulated timeframe, it falls under the category of "willful neglect – not corrected." This category carries more severe penalties compared to the "corrected" classification.
What are the HIPAA Violations Consequences?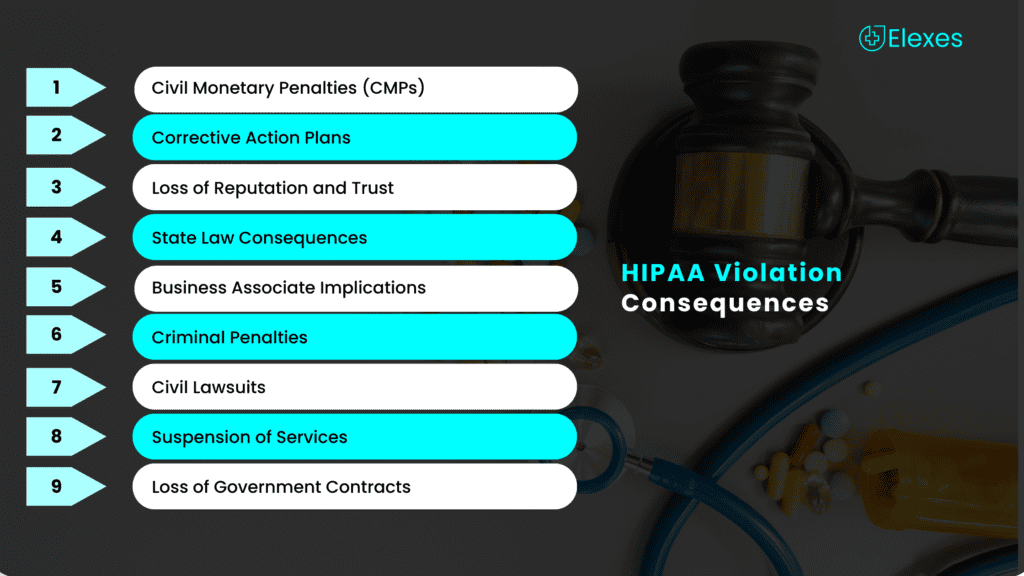 Violations of HIPAA guidelines lead to costly consequences. Potential consequences of HIPAA violations range from penalties to reputation damage.
Civil Monetary Penalties (CMPs)
The Office for Civil Rights (OCR), responsible for upholding HIPAA regulations, possesses the power to levy civil monetary penalties on covered entities and business associates found to be in breach of HIPAA provisions.
2. Corrective Action Plans
The OCR may require the entity to implement a corrective action plan to address the underlying issues that led to the violation and prevent future non-compliance.
3. Reputation and Trust Erosion
A HIPAA violation can harm an organization's reputation and diminish patient trust, resulting in business loss and potential legal recourse from affected parties.
4. State Law Consequences
In addition to federal penalties, states may also have their own laws and penalties related to the privacy and security of health information. Entities must ensure compliance with both federal and state regulations.
5. Business Associate Implications
A business associate found in violation of HIPAA can also face similar consequences, including CMPs, criminal charges, and loss of business contracts.
6. Criminal Penalties
In cases of willful neglect, where an organization knowingly violates HIPAA rules, criminal charges may be brought against individuals, such as employees or executives responsible for the breach. Criminal consequences can lead to fines ranging from $50,000 to $250,000 and a prison term of up to 10 years, contingent on the violation's nature and severity.
7. Civil Lawsuits
Patients or individuals affected by a HIPAA violation may have the right to file civil lawsuits against the organization. If the court finds the organization liable for the breach, it may be required to pay damages to the affected individuals.
8. Suspension of Services
In extreme cases, particularly if an organization demonstrates a pattern of repeated and egregious violations, OCR may consider suspending the organization's ability to participate in certain healthcare programs or services.
9. Loss of Government Contracts
Government contractors that handle PHI and are found to be in violation of HIPAA may face termination of their contracts with federal agencies.
HIPAA Violation Penalty Structure
The penalty structure for HIPAA violations is divided into four tiers, each with its own range of civil monetary penalties (CMPs). The penalty amounts vary based on the level of culpability, whether the violation was unknowing, reasonable cause, willful neglect but corrected, or willful neglect and not corrected.
Tiered Penalty System
HIPAA has a tiered penalty structure that categorizes violations based on their level of culpability. There are four tiers, each with a corresponding penalty structure.
Tier 1 – Violations due to Unknowing:

Minimum Penalty: $100 per violation
Maximum Penalty: $50,000 per violation
Annual Maximum: $25,000

Tier 2 – Violations due to Reasonable Cause:

Minimum Penalty: $1,000 per violation
Maximum Penalty: $50,000 per violation
Annual Maximum: $100,000

Tier 3 – Violations due to Willful Neglect but Corrected:

Minimum Penalty: $10,000 per violation
Maximum Penalty: $50,000 per violation
Annual Maximum: $250,000

Tier 4 – Violations due to Willful Neglect and Not Corrected:

Minimum Penalty: $50,000 per violation
Maximum Penalty: $50,000 per violation
Annual Maximum: $1,500,000
Below is the HIPAA penalty structure as of 2023:
| Penalty Tier | Level of Culpability | Minimum Penalty per Violation | Maximum Penalty per Violation | Annual Penalty Limit |
| --- | --- | --- | --- | --- |
| Tier 1 | Reasonable Efforts | $127 | $63,973 | $1,919,173 |
| Tier 2 | Lack of Oversight | $1,280 | $63,973 | $1,919,173 |
| Tier 3 | Neglect – Rectified within 30 days | $12,794 | $63,973 | $1,919,173 |
| Tier 4 | Neglect – Not Rectified within 30 days | $63,973 | $1,919,173 | $1,919,173 |
Common HIPAA Violations
Common HIPAA violations can occur due to a variety of reasons, often involving human errors or lapses in security protocols.
Unauthorized Access
An employee at a hospital accesses the medical records of a celebrity patient out of curiosity, without any legitimate reason for doing so.
Improper Disclosure
A healthcare provider shares a patient's medical information with a family member without obtaining proper authorization from the patient.
Lack of Physical Security
An unattended computer with patient records is left unlocked in a public area, allowing unauthorized individuals to access patient information.
Inadequate Technical Safeguards
A healthcare organization fails to implement encryption for sensitive electronic health records, making it easier for hackers to steal patient data.
Failure to Provide Breach Notification
A healthcare entity experiences a data breach involving the unauthorized disclosure of patients' PHI but fails to notify the affected individuals or the Department of Health and Human Services (HHS) within the required timeframe.
Negligent Disposal of PHI
Discarding patient records in the regular trash without first ensuring they are properly shredded or destroyed, leads to the exposure of patient information.
Insider Snooping
An employee in a healthcare organization accesses the medical records of a coworker, neighbor, or friend without authorization.
Lack of HIPAA Training
A healthcare facility fails to provide proper HIPAA training to its employees, leading to inadvertent privacy breaches due to employees not being aware of the rules and regulations.
If you are looking for someone who can train your employees on HIPAA guidelines, give us a call today.
HIPAA Incidents in Previous Years
Insufficient Protections (2013)
In 2013, the Hospice of North Idaho consented to pay $50,000 to resolve potential HIPAA violations. The breach occurred when a laptop containing patient information, which was not encrypted, was stolen from an employee's car. It was discovered the organization lacked adequate security measures to safeguard patient data.
Employee Snooping (2014)
In 2014, a former employee of New York-Presbyterian Hospital and Columbia University Medical Center was sentenced to prison for violating HIPAA by intentionally accessing and disclosing patient information without authorization. The staff member had unauthorized access to the medical records of over 6,000 patients, which included prominent individuals.
Business Associate Breach (2015)
In 2015, Anchorage Community Mental Health Services (ACMHS) settled a potential HIPAA violation case with a $150,000 fine. The breach occurred due to a malware infection on a business associate's computer, resulting in the exposure of PHI of over 2,700 individuals.
Unauthorized PHI Disclosure (2018)
In 2018, the University of Texas MD Anderson Cancer Center was subjected to a $4.3 million fine due to HIPAA violations connected to the unauthorized disclosure of electronic protected health information (ePHI). The organization had encountered several instances of data breaches, which included the loss or theft of unencrypted devices containing sensitive patient information.
Failure to Provide Timely Access to PHI (2019)
In 2019, a California hospital was fined $85,000 for failing to provide a patient with timely access to her medical records. HIPAA grants patients the right to access their health information within a certain timeframe, and the hospital's delay in responding to the request resulted in a violation.

How can Elexes help in preventing HIPAA violations?
Elexes can provide valuable assistance to you in ensuring HIPAA compliance and mitigating the risk of violations.
Ensuring compliance
With our in-depth knowledge, we help you understand and navigate your obligations under the law, ensuring compliance and avoiding potential penalties
Risk assessment
Our experts excel in conducting risk assessments, identifying vulnerabilities that could lead to HIPAA violations, and working collaboratively to develop strategies to mitigate these risks effectively.
Assist in policy development
We assist you in policy development, creating robust privacy and security policies that align perfectly with HIPAA regulations and industry best practices.
Conduct training programs
We provide tailored training programs for employees, ensuring they are well informed about their responsibilities regarding PHI protection and HIPAA compliance.
In addition to proactive measures, we offer reliable support in breach response. In the unfortunate event of a security breach or privacy incident, our experts can guide you through the intricate breach notification process and assist in implementing effective incident response plans.
With Elexes as a dedicated partner, you can confidently focus on your core activities, knowing that your HIPAA compliance is in capable and experienced hands, and your patients' sensitive data is safeguarded.
Conclusion
Violations of the HIPAA law entail substantial and expensive repercussions.
Failure to adhere to the regulations can lead to substantial financial fines, which vary from thousands to millions of dollars based on the gravity and intention of the violation.
These fines can cripple financial stability and tarnish the reputation, leading to a loss of patient trust and potential legal liabilities.
To avoid these costly consequences, it is important to prioritize HIPAA compliance and invest in comprehensive privacy and security measures.
Conducting regular risk assessments, implementing robust policies and procedures, providing staff training, and staying informed about regulatory updates are crucial steps toward safeguarding patient information and maintaining the trust of both patients and regulatory authorities.
Contact us today to help you with HIPAA guidelines.
Elexes Team
Elexes medical consulting is one of the leading regulatory & compliance consultant for several industries: Medical device, Pharmaceuticals, Cosmetics, Food, and Biologics.